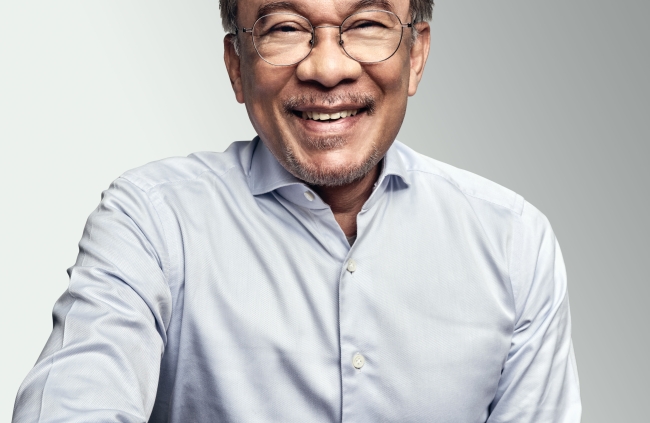 When
Saturday 17 Apr 2021, 15:00 — 17:00
Fellows and Friends of the Muslim Institute were invited to an online event with leading Malaysian politician Anwar Ibrahim on 17 April 2021 @ 3pm (UK time). Anwar, who is President of the People's Justice Party, discussed his essay published in the Virus issue of Critical Muslim 'Justice for a Praying Person', in which he explores the implications of our Covid present. The session was chaired by Muslim Institute Chair of Trustees Ehsan Masood, and the audience was given an opportunity to ask questions. You can view a recording of the event by clicking here.
Anwar's career as an MP in Malaysian politics began in 1982 when he joined the ruling United Malay Nationalist Organisation (UMNO) political party. By this time, he had already been highly active in Malaysian politics and become familiar with the jail cells Malaysian political dissidents were put within. He was a pivotal figure in youth organisations, including ABIM (Muslim Youth Movement of Malaysia) which he helped fund. In 1974 he would be detained for the first time under the International Security Act (ISA) while protesting rural poverty and hunger. In 1981, he was one of the founders of the International Institute for Islamic Thought (IIIT). Once in UMNO he quickly rose up the ranks of Mahathir Muhammad's Malaysia throughout the 1980s, serving as Minister of Culture, Youth and Sport, Minister of Agriculture, and Minister of Education.
In the 1990s he would serve as Minister of Finance and be elevated to Deputy Prime Minister in 1993 until his sacking in 1998, and eventual arrest that same year under the ISA. He was imprisoned until 2004 where he was beaten and placed in solitary confinement. Once freed, he was disqualified from running for office in Malaysia until 2008, barring a pardon from the King. He spent this time carrying out not-for-profit work and teaching at institutions such as St. Anthony's College, Oxford, and Johns Hopkins and Georgetown in the US. Upon his arrest Anwar and his colleagues had founded the Reformasi movement for reform of Malaysian politics and the People's Justice Party, which he would run under when he returned to politics in 2008, becoming opposition leader for the first time. Following a questionable election defeat in the 2013 general election, Anwar was again imprisoned from 2014 until 2018. In the historical 2018 general election, Anwar's coalition would defeat the coalition that had ruled Malaysia since its independence from Britain. Mahathir would again become Prime Minister while Anwar was released and pardoned by the King. Positioned to be the next Prime Minister, a coup in 2020, just as the Covid-19 pandemic was in its infancy would see Anwar moved again to being leader of the Opposition where he stands today.
In his article for the Virus issue of Critical Muslim, titled Justice for a Praying Person, Anwar reflects on his time in prison, the present pandemic, and the history of justice discourse, which curiously placed Islamic thought on the matter in the margins. He hopes to ignite through this article, a more informed discussion of justice and Islam that seeks to establish true justice and especially do right by the poor and disenfranchised in society. Justice, being the namesake for his political party, and an all too elusive element in his personal life, is not only a fundamental tenet of Islam, but of a humanism we should all embody in the future.
To watch a recording of the event click here