Jerusalem seems to be a holy city standing on the edge of a holy war. "The Second Intafada ('uprising') started in Jerusalem. The third Intafada will also start in Jerusalem," says Dr Husam Zomlot at a quiet dinner in Ramallah, in the West Bank, Palestine. Anger in the city of Jerusalem seems to be rising every day, and could erupt any day to engulf the entire Middle East.
To understand why a city with tremendous religious significance for Christians, Jews and Muslims is on the edge of an abyss requires context. Last week I arrived in Jerusalem as part of a Labour delegation to Israel and Palestine, two men walked into a synagogue and hacked several people to death. The day before, a Muslim bus driver was found hanged under suspicious circumstances. This horrifying and deplorable cycle of violence needs to stop, and it won't unless some deep rooted problems are resolved. When Ed Miliband addresses Labour Friends of Palestine today, I hope he raises some of these issues.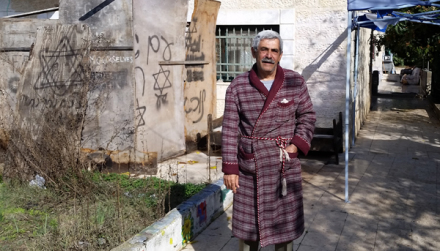 Nabeel al-Khurd (pictured) and his family have been living in East Jerusalem since the six-day war in 1967, after UNRWA granted Palestinian refugees land to live on. Five years ago, Nabeel and his family were abruptly evicted and forced to cram into his mother's house. A group of Jewish settlers, who took over his home, are now after his mother's place too. Some have taken over and boarded over the front part of his mother's home (note the Star of David markings) and there's little that the al-Khurds can do. They have all been forced into the back. If that gets taken over too, as it almost certainly will be, they will be made homeless.
Their story isn't unusual. Israeli law allows Jews, but not Palestinians, to 'reclaim' land in East Jerusalem if they can show it was owned by them prior to 1948. This means that an increasing number of Muslims in the capital city are being made homeless by settlers. The government sometimes uses other pretexts; it is building a King David City in another locality to drive out over 1,500 residents for example.
And there's more. The Israeli government has significantly stepped up house demolitions of Palestinians homes, claiming they were illegal while restricting permits for new housing for them. They have to jump through numerous hoops just to register land, get an expensive building permit or prove their house belongs to them.
Most residents in West Jerusalem are Jewish while most in the East are Muslims. Israel claims the entire holy city to be its capital, but isn't supported by most of the world. Palestinians see East Jerusalem as the capital for their independent nation. And yet, they feel that the government wants to push them out of Jerusalem so it doesn't have to share the city.
Its obvious why such worries persist. Most Palestinians in Jerusalem only hold residency permits rather than citizenship, and the government has tightened laws to make it easier to seize their homes if they stay away too long. Muslims in East Jerusalem can't travel around much (or they risk losing their residency), nor can they marry someone from the West Bank and bring them back. While Palestinians in the West Bank or Gaza aren't allowed Israeli citizenship (except with minor exceptions), Jews can move to Israel from any part of the world and become citizens.
All these restrictions and harassment inevitably antagonises and raises tensions. But Palestinians aren't entirely blameless. Retaliatory violence does nothing to help the Palestinians cause and only entrenches the cycle of violence. Furthermore, sympathetic Jewish activists and politicians say part of the reason why Palestinians are disenfranchised in Israel is because they barely vote in national or local elections. Without representation its easier for their rights to be taken away.
But there is a broader change going on. Palestinians in East Jerusalem had largely let their brethren in the West Bank or Gaza lead the debate on independence in the past. But all that is now changing.
"I don't think Palestinians in East Jerusalem expected to be at the vanguard of the [independence] movement," the lawyer Daniel Seidemann told us. But, he said, the Israeli government is pushing them in the direction. Next week, a controversial new bill that will make Palestinians second class citizens is set to pass. It is merely a matter of time when the lit torch sets the region on fire.
When Ed Miliband makes a key-note speech at Labour Friends of Palestine tonight, he should reiterate that violence should be strongly deplored because it sets back peace efforts. But he should also re-iterate his strong support for the recognition of Palestine and for Israel to stop discriminating against Palestinians.
This article first appeared on LabourList.org
Sunny Hundal is a British journalist, blogger and an academic. You can contact him on Twitter @sunny_hundal