Day One - Monday 1 July
My journey started this morning at about 4am, with the flight from London to Malaga smooth and quick. As soon as we landed and collected our luggage we were picked up by Tariq Mahmood from Andalucian Routes along with another group of ladies that had arrived in Malaga for the same reason as myself.
We arrived in the Hotel Piramides, which is located in "Feungirola" – loosely translated as "End of the land of Kheyr" (Goodness/Godness). Tariq then proceeded to give the low down on the tour - where, when and how. I must say I can't wait to sample the richness of Andalucia and its Islamic history.
Tariq is passionate about the tour, and rightly so, because it is an empowering historical proof of Islamic civilisation. One thing I noticed today is the diversity of our group, with members coming together from as far apart as Queensland, South Africa, Cardiff and Swiss Cottage in London!
Tomorrow morning Isha Allah, our journey to our history will start for me with a journey to Cordoba. I am excited and scared at the same time of how it will all affect me.
So until tomorrow, insha Allah.
Ayaan Aden, fellow of the Muslim Institute.
Day Two - Tuesday 2 July
Day two of the tour of al Andalus started with conversations with other people in the group over breakfast, finding out about their reasons for taking part in the tour and what it means for them.
If I am honest I did not have a clue of what was to happen, and how I would feel about it. But I knew it would be life changing and educational at the same time.
After a talk from tour leader Tariq we all got on the coach. Two hours later we arrived at Cordoba and assembled outside "The Museum of the Three Cultures", housed in a Muslim-built tower guarding the bridge that takes you into the old city.
I could go on and on about the museum, however for me the name itself reveals its secret – how three different cultures and people were brought together by faith, science and learning. As soon as we entered the museum and were given headphones to hear the commentary, Tariq's words from yesterday just came flooding into my head. Tariq had said that Muslims, especially our young people, are suffering from an identity crisis and that experiencing Andalucia will make you feel like you have arrived and been validated. (Tariq is becoming one of my favourite persons in this world. I'm sure he has a VIP place in heaven, and as his friend I'm hoping he will put in a good word for me!).
The question is "what does this all mean to me?"
The first room we entered featured four men who all played their part in establishing Cordoba as a centre of learning. My heart nearly jumped out of my chest when I realised that one of the mannequins in front of me represented none other that of Ibn Rushd, aka Averroes.
I always thought that I knew my history and the history of my faith. How wrong was I? Suffice to say that today I felt really ignorant. Of course, there is no excuse for ignorance as a Muslim regarding her or his faith. After the lecture on Ibn Rushd recently at the Muslim Institute I feel like I knew the man and became a great admirer of him and all that he stood for. However today my admiration turned to great respect – for this man and his vision was too far advanced for his time: for example he advocated the rights of women in particular. We learned that Ibn Rushd had said that women were not just there for men to enjoy and for procreation only, that men and women were commanded by Allah equally, and that it was society/men who had lowered women's status and station in life. When I heard that today I had that feeling of validation.
After the museum we then proceeded to "la Mezquita" (masjid) in Cordoba. The beauty and simplicity of the mosque was not lost to any of the group, but the fly in the soup is the gaudiness of the cathedral that has been plonked in the middle of this genius architecture.
Nevertheless, it was an experience I will treasure for the rest of my life. I want to bring my mother and children here so they can experience it as well.
Tariq then organised for us to meet and eat with a Spanish Muslim family just outside Cordoba. It was amazing to meet them, to find out how they lived and how they are so determined to revive Islam in Cordoba and restore it to its proper place. The family were humble, generous and self-assured in the task they had set themselves. They had cooked us a lovely meal, welcomed us into their home set on farmland and told us the story of how they had found their faith.
All in all a very, very good day today, enlightening, educational and emotional. Tomorrow to Granada insha Allah.
Day Three - Wednesday 3 July
We are half way through the tour. Day three started with a presentation by our tour leader Tariq on "convivencia" or co-existence. He explained that when he takes young people on tour he tries to challenge the notion that Islam in the West is an oxymoron. He said that our identity is not static but changing, and that knowledge of our history has a great part to play. Tariq told us that one of the problems amongst kids from deprived backgrounds who come on his tours is a lack of self-esteem, along with a double sense of non-belonging; neither identifying with their parent's cultural background, or the one in which they live.
He went through the history of al-Andalus, starting with Tariq ibn Ziyad, who led the Muslim conquest of Spain and what is now Portugal in 711-718 A.D, and now another Tariq in another lifetime is "taking" Spain again! Tariq described the Andalusian society; how it represented a missing chapter in European civilisation, how it had been systematically written out of history and how during this period a progressive intellectual culture thrived. We learned that under Islamic law minority rights were protected and an open society created.
Tariq's presentation prepared us for the second half of the day – a visit to the ruined city of Medina Azahara, which is situated roughly 10 kilometres outside Cordoba. Yet another revelation for me on the advanced nature of Islamic architecture in the tenth century when it was built. The group walked around the ruins in awe and amazement at how impressive the site was. In the museum attached to the archaeological site we saw an animated film recreating what the city must have originally looked like. During this time Al Andalus had one Caliph based in Medina Azahara, along with his prime minister, generals and so on. The downfall came later when al-Andalus split into warring kingdoms, picked off by the Christian forces until one – Granada – remained. That fell in 1492.
Then from Medina al-Zahra we were carried in the coach up and down the mountainous landscape to the city of Granada where we will be for the next two days to continue on our journey.
Insha Allah.
Day Four - Thursday 4 July
We have been walking in the footsteps of those who created the Andalucian experiment in convivencia. Today we walked in the footsteps of those who were forced to abandon it.
The morning started with a presentation by Tariq that described the fall of Al Andalus and the last stand in Granada and the mountains beyond it. Tolerance between communities working together in the fields of art, science and religious studies was overwhelmed by the Inquisition spreading intolerance, extremism, fanaticism, war and ethnic cleansing (all the things we Muslims today are associated with by the media).
I must say that I have huge respect for Tariq and all that he is trying to accomplish regarding his faith and its history. One of our group said that Tariq's middle name must be "passion" for he is really passionate about what he is doing in Spain. The presentation was thought-provoking, making me ask myself a question – did I know enough about the history of my faith? The answer is still No! But now I am hungry to know more and I know it's not going to come to me by some miracle, one has to search, ask and inquire to gain that knowledge.
In the afternoon – after the burning heat of the sun had lessened – Tariq took us on another winding road trip to the Alpujjara region in the foothills of the Sierra Nevada mountain range. This was the rural area that the Muslims were driven out to after the fall of Granada. It is the place of "the Moor's last sigh" where the last Muslim Sultan turned his back on his lost kingdom for ever. We climbed up a slope into the ruins of a small defensive fortress built by the Muslims when they were fighting a losing battle to keep a foothold in Andalucia. You could feel that sigh in the wind that swept around the ruins.
Tomorrow morning we are off to visit the glory of the Alhambra Palace, and then the new mosque in Granada for jumma - our last visit of the tour.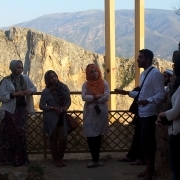 Day Five - Friday 5 July 
This morning on our final day started really early as we had to get to the Alhambra at 9am. Tariq organised a humble brother, Abu Bakr from Morocco, as our official tour guide. As soon as you enter the city of Alhambra through the gardens you notice how serene, green and cool it is. Here is some genius at work. To know that this was created by Muslims fills me with overwhelming pride and joy at its sheer beauty. How is it possible that we can have created something like this then, and behave the way that we do now?
When I say "we" I mean the Muslim ummah in the Islamic world. I just don't understand what we are doing wrong - pray tell me? I keep coming back to the same question as I walk around the Alhambra; its beauty, its architectural achievements, its plants, its gardens and its use of water as a sensory and sculptural element. I just can't understand how, why and when we lost that "baraka"? Do we have any right to claim this as our history? Somehow I feel like a fraud. Throughout the tour Tariq did keep saying that everything has its time and that when Allah (SWT) wills it, it will happen.  
The word that comes into my mind is "opulent". The question that comes into my mind is "who were the people who actually built the Alhambra?" I mean, the labour that went into this must have been immense. We know the names of the rulers, but who hauled the marble and stone up the hill? Who produced the exquisite carvings? How do you extract that kind of labour that adds up to this wonder of the world? 
When I read the writings on the walls (some people say the Alhambra is actually more a book than a set of buildings), the poetry that refers to women, that has a femininity about it, I wonder who were the women being referred to? What human stories are embedded into the building?
As we entered the throne room where ambassadors would be received, you literally look up to the heavens to the seat of God. Abu Bakr told us that the dimensions of this room exactly match that of the Kabbah. 
You then move to the Court of the Lions. What an overwhelming piece of architecture, the centre piece of which is a fountain held up by statues of lions. Apparently the water hydraulic system was so unique that archaeologists had to break one of the lions open to find out how it worked. 
Standing here, I don't know how I feel. I am struck by conflicting emotions within myself. Although I am proud and want to identify myself with this civilised Muslim world, I cannot also help but think about the hierarchical society that it represents. It is an expression of the highest culture, but it is also a projection of power and theatre, gifting the rulers at the end of the Muslim Andalucian period a divine authority that perhaps they did not deserve.
We timed our visit to the Alhambra so that we could pray jumma'a in the Mosque of Granada, the first purpose-built masjid to be opened in Granada since the fall of al Andalus five centuries ago. 
When we arrived at first the women in the group did not know where to go. So myself and Sultana saw a door, pushed it open and went in. My point is that there are no signs on the doors separating the brothers from the sisters, and when we went in we were all seated on the same level, separated only by discreet screens. 
We all wanted to hear the Qudba of the imam, but I don't speak Arabic so it was a case of sitting there listening to it anyway, straining your brain to understand what he was saying.
Anyhow Sultana and myself sat down near the entrance, as the masjid was full to its capacity. As soon as I started listening to the imam I was overwhelmed by emotions, from where I didn't know. I suppose the week's events, the experiences and discoveries, all came out. Sultana and myself were taking turns in comforting each other. 
All through the prayer I couldn't bring my emotions under control, until the end when I could breathe and exhale. It was hot in the masjid, so we stumbled out when jumm'a had finished. To our surprise and delight there were food stalls outside the mosque, which for us Londoners, was quite unique. 
We all bought food and sat in the beautiful mosque gardens to consume our purchases and have a chat. We all agreed that nobody could have predicted that we would all be sitting her with a spectacular view of the Alhambra across the valley eating paella (without pork!) and drinking freshly made lemonade with mint. 
This has been one of the most amazing and inspiring, highly motivating, wonderfully thoughtprovoking, brilliantly educating, majestically enlightening, emotionally demanding trip of my entire life. 
I thank Tariq Mahmood, his wife Tazmin and son Qaaym, because there wouldn't be an Andalucian Routes without them and I wouldn't have met and connected with such wonderful people. 
Tariq – dude- thank you so much, you gave me my mojo back. Jezakallum kheyr. 
The Muslim Institute is hoping to team up with Tariq and his team to offer our fellows an exclusive tour of al Andalus in the near future.