The final week of Ramadan is usually filled with a sense of joyous anticipation. No, not because Muslims are looking forward to not having to fast for another year. It's more about the coming of Eid al-Fitr – the Feast of the Breaking of the Fast, or the Lesser Festival.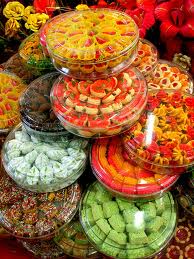 In my native Malaysia, workplaces will now be filled with office mates pre-ordering and trading Hari Raya (Malay for "Eid") cookies and other goodies. Shopping malls will be decked with Raya decorations – fairy lights, oil lamps and giant ketupats (Malay rice dumplings) – and their sound systems saturated with Raya songs.
This is also the week when Kuala Lumpur becomes a ghost town, with people readying to spend up to a week with their loved ones back in their hometowns or villages. On Raya day and throughout the month of Shawwal, multi-ethnic, multi-religious friends and family will be visiting each other as part of the delightful culture of holding "open house" during special celebrations.  
It's difficult to square this sense of joy with the dour enforcement of Ramadan by state Islamic authorities. Just last week, the Islamic Department of the Federal Territories (JAWI) said that since 18 June 2015, it had nabbed 28 individuals for smoking and eating in public, more than the 18 detained last year. A JAWI official said, "[Some] were brave enough to eat at roadside stalls without feeling embarrassed. They have no respect for Ramadan […]. Some of them claimed to be construction labourers, drivers travelling on the road and suffering from gastritis. We could not be bothered by their reasons as our action was because they did not respect Ramadan by eating in public."
Offenders can be jailed up to six months or fined up to RM1,000 (around £170) or both under the Syariah Criminal Offences (Federal Territory) Act 1997. It's not just Ramadan that's enforced like this. On 23 June, the Malaysian Film Censorship Board said that scenes and dialogue which "mock, belittle, criticise the government and the country's national sensitivities" will be censored from local films on television, along with those that "tarnish the government's image". Other banned elements include superstition, horror, "indecent behaviour" and "political" sensitivities – all subject to interpretation, of course. 
But does this mean that Muslims in Malaysia celebrate Raya under authoritarian duress? Do these pronouncements by the authorities also support claims by Islamophobes in the West that Muslims are uptight and have the least evolved sense of humour? 
Nowadays whenever I want to find contrary evidence, I take to YouTube. Here's an example of a Malaysian Muslim family celebrating Raya in a way that flies in the face of headlines that regularly stereotype Islam in tabloids like The Daily Mail (Malay humour takes its time – keep watching until the surprise at 1:42.) 
Here's an even more daring and chaotic take on Raya by Hirzi, Muna and gang – a group of Malay Singaporeans who have a following in Malaysia, too. 
Humour and happiness are universal but expressed in culturally specific ways. Muslims all over the world have it in spades regardless of what the "authorities" say. In the lead-up to Eid, why not spend some time browsing YouTube to get into the festive groove with your own culturally-specific examples? Remember to share on social media but separate the wheat from the chaff. 
And here's my all-time favourite. Apologies for the lack of subtitles but just watch to the end. 
Eid Mubarak!
Shanon Shah has just submitted his PhD thesis on the sociology of religion. He writes about the lived or politicised aspects of religion, gender, sexuality and human rights, especially regarding Islam.