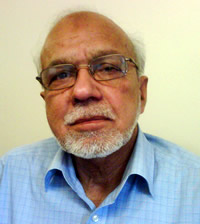 Ladies and gentlemen, it is indeed a great honour for me to be among you at this historic weekend event – the relaunching of the Muslim Institute.
It is also an immense pleasure for me to see so many new and so many younger faces.
This organization is a little older than many of you here. We came into existence 35 years ago, in 1973/74. But like many of my younger colleagues in this audience, we were once young too.
Though I was somewhat younger than Zia and Iqbal!
This is a relaunch event. But looking back, there are many things in common between the past and the present. And I believe it is crucial that as we go forward we learn – or relearn -- some of the lessons from our history.
Like so many of you today, our founders were also academics, students and scholars, including Zia, Iqbal Asaria, Fuad Nahdi.
The late Dr Kalim Siddiqi was our director. And until his death in 1996, I would act as deputy director.
At the time of our founding, our concerns were mainly global. But we were also a British organization in many ways.
Britain offered us a space to think and organize free from the dictators, despots and secret policemen who would watch our every move had we been based in Pakistan or Saudi Arabia.
But our hopes and aspirations were for the global Muslim community. We felt that as the better educated among our community, we had a special duty; we had a special responsibility to work for the greater good.
So why did we found the Muslim Institute?
Many of you today are growing up in an era of wars – wars in Afghanistan; wars in Iraq; in Somalia; and elsewhere.
At the time of our founding, three wars cast a long shadow.
The 1967 war with Israel in which the Arabs lost Jerusalem.
The 1971 war that led to the break up of Pakistan.
The 1973 war when Egypt lost the Sinai to Israel.
It is hard for some of you to feel this today, but back then, these events for my generation were a body blow. Pakistan had been the great hope for Islamic revival – now it was fragmenting.
Egypt under Gamal Nasser had overthrown colonial control, only to be defeated by Israel.
We felt hapless. We felt disillusioned. So we came together to chart a future so that future generations would not need to feel defeat and humiliation in the way that we did.
What was our solution? Our solution was to rebuild the foundations of a knowledge society.
Past Islamic civilizations were civilizations based on knowledge. And we were keen to rebuild this foundation of knowledge and innovation. We also knew that we could not forge a future without reconnecting with the past.
So the Muslim Institute began by organising seminars and courses for our members.
Our topics included:
The philosophy of science
Islamic Economics
The study of Islamic movements
Foundations of Islamic civilisation
Islamic civilization was a pre-colonial one. Colonization had given much; but had also taken much away from the countries where we were born. We believed that to revive knowledge and learning in Islamic countries, we had to first remove the cobwebs of orientalism – and assess for ourselves the state of our knowledge institutions.
And so two areas of research emerged:
One was the study of the colonial history of the major Muslim countries. A second was on the need to train our Islamic scholars in modern sciences.
Our first major grant came for a project called 'The Road to Medina'. This would be a three-volume study on the contemporary relevance of the life of the Prophet.
It was supported by the Ministry of Higher Education in Saudi Arabia; but unfortunately, the project was never finished.
We were more fortunate in producing new work on science and technology. And I believe Zia has actually brought a copy of the first book to carry the imprint of the Muslim Institute.
But two further events would happen, which would change the institute; and would change our priorities for the next 30 years.
The first was the Islamic revolution in Iran in 1979. The second was the publication of The Satanic Verses a decade later in 1989.
Today, we are all wiser with hindsight. But 30 years ago, the events in Iran were seen by many of us as a window into a new future. Knowledge is one thing. But you cannot make change without political power. Iran was seen as an experiment that successfully combined the two: it combined knowledge, allied to power.
Many of us asked: Could this be the future we were working towards?
Dr Kalim believed it was. Zia was passionately against. We parted ways.
And so began a long and very deep relationship between the institute and the Islamic republic.
The other major development in the life of the institute was the Satanic Verses affair of 1989.
This was a time when the British Muslim community began to see the emergence of a new leadership. At the institute, we felt that we could play such a role by creating the Muslim Parliament.
With an election just months away, I should remind you that in 1989 a Conservative government was in power. This government was confused by the uproar on the book. And ministers had absolutely no interest in addressing community concerns.
Our response was equally tough. If they didn't want us, then we would create a set of institutions which would be entirely self-sufficient. If the government had no interest in us; we would go it alone.
So we established an independent representative political body for Muslims, and we called it a parliament; we set up a committee for the development of Muslim education; we set up a halal food authority; and more.
Dr Kalim Siddiqi died suddenly in April 1996. His death led to the end of our relationship with Iran; and it also ended the brief life of the Muslim parliament.
Yet the institute's name and its assets still existed.  So, together with colleagues – some old, some new – I set about taking it into its third phase.
---
Since 1996, I initiated a series of brainstorming sessions, which would guide our later work. These were monthly debates on issues such as democracy, human rights, freedom of speech, pluralism, gender equality and empowering women.
We launched or supported campaigns highlighting: Child Protection in Faith-Based Environments; Forced Marriages, Domestic Violence and so-called Honour – Killings. We took a lead in the anti-war movement. And after many years of work, launched a new model Muslim marriage contract – that gives equal rights to both partners.
I am also proud to say that we played a part in creating many new organizations. These include: The City Circle; British Muslims for Secular Democracy; and the Muslim – Jewish Theatre Group.
At the very beginning, I talked about how young we were back at the time of founding. Many of us are older now. And are ready to contribute our experience, our insights and our memories in this fourth phase for the institute.
The Muslim Institute is at heart a learning organization. If you could keep in mind just one lesson from the past as you move into this new and exciting phase, it is this:
We must never stop learning.
Thank you.