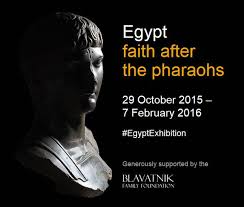 The emergence of the Islamic State in Iraq and Syria (ISIS) might seem like a new nightmare, but neither its motivations nor methods have appeared out of nowhere. Its violent persecution of minorities and destruction of historic sites it considers un-Islamic mirror the policies of internationally recognised regimes that are considered perfectly acceptable by Western governments. Just look at the Kingdom of Saudi Arabia's quashing of dissent and furious bulldozing of early Islamic and Ottoman monuments in the holy city of Makkah to make way for vulgar hotels, shopping malls and homes for the wealthy.
But can we imagine an Islam that does not look like this? We know that cultural borrowing and inter-religious friendships are historical realities but where can we get evidence for these stories, especially in relation to Muslims?
One place is the British Museum exhibition, Egypt: faith after the pharaohs, which runs from 29 October 2015 to 7 February 2016. There you will find examples of fascinating transitions in Egypt from its pharaonic to Christian to Muslim eras, not to mention its unique Jewish history also. Granted, there is not much incisive commentary on how successive governing regimes imposed religion on the population. But you will get a sense of intermingling religious symbols, beliefs and practices which everyday Egyptians experimented with to express themselves and interact with others. 
Particularly fascinating objects for me were: 
A Judeo-Arabic Qur'an – evidence that Islam's central text was read and discussed by Jews
An image of the goddess Isis cradling her child Horus, who was later adopted by the Greeks as Harpocrates, the god of silence – the image itself was probably later Christianised as the iconic image of the Virgin Mary and infant Jesus
A Fatimid lusterware bowl depicting, of all things, a Christian priest
A tiraz textile from the Fatimid era inscribed with folk Arabic and Coptic belonging to a Christian man
The exhibition explodes the myth that "Islam", "Christianity" and "Judaism" formed separate civilisations and challenges our ideas of religious history. The coming of Islam did not erase Christianity any more than Christianity erased pharaonic religion. There was no "West" or "East" at this point, and many Egyptians were as comfortable in their own skin as they were adopting Greek, Roman and Arabic culture. 
Still, the British Museum seems to be avoiding overt political commentary and there is no clear reflection on how exhibitions like this can become useful correctives in ideologically charged times. But that is not a reason to miss it. Go even if you think you know everything about religion and/or Ancient Egypt – and perhaps allow yourself to hope for better inter-civilisation and inter-religious relations.
Shanon Shah is a writer and researcher on religion, gender and sexuality and has a doctorate in the sociology of religion.