Overseas Malaysians like myself enjoy our political rants. We are not patriotic enough to actually go home and get our feet wet (or in Malaysia's case 'get ourselves wet' as the Malaysian riot police routinely use their water cannons on activists). No, we're not patriotic enough for that but when rising star politicians visit the UK and have open dialogues in places like the Brunei gallery in SOAS, we use those opportunities to whine and complain about the sorry state of the nation.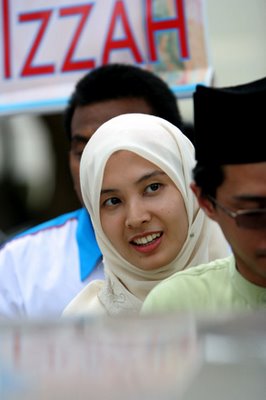 YB (the Malaysian equivalent of RT) Nurul Izzah Anwar was our victim last night. She is known to all Malaysians as 'Puteri Reformasi' (Reformation Princess, referring to her role in the calls for reformations in the late 90's). Her father is of course Anwar Ibrahim, Malaysia's political scion and the former deputy prime minister who was wrongly accused of corruption and sodomy but who is now marshalling for perhaps the most decisive political battle of his career. Nurul's political pedigree is unmatched among politicians of her generation. She has been with the People's Justice Party (PKR) since its inception and is now one of its vice-presidents. Her age belies her vast experience.
To Muslims, Malaysia seems to be the model of a great progressive nation. That's what they tell us at least. For those who take a closer look, Malaysia's problems with race and religion not to mention corruption is acute. Beyond the cosmopolitan beauty of the Kuala Lumpur skyline lie growing dissatisfaction with its treatment of these issues.
Nurul's stagecraft did not detract from her sincerity. She was affable but her conviction showed. It's inspiring to see young politicians who are driven by their ideals. That energy of youth is infectious and I think we were all infected, no matter how distant a memory the time of our own youth happened to have been. Nurul was enthused by the imminent electoral reforms we would soon enjoy. In Malaysia, even to ask for a level playing field in electoral politics was a big deal. The commissioner of the Electoral Commission once said that if they played fair, then the ruling coalition party would lose! That's how blatant and audacious his 'neutrality' was.
Of course, Nurul had to handle some rather controversial questions. Malaysian politics can never seem to move beyond the issues of race and religion. The very first question aimed at her was the issue of freedom of religion for Muslims in Malaysia. Why is it that in Malaysia, Malay Muslims cannot legally leave Islam? Why is it that Muslims can only adhere to the Sunni Shafiee school and not other schools of law, let alone other sects?
Nurul handled these questions with great finesse. It must be remembered that feelings (many of the members of the audience were Malay-Muslims) were at stake here and it wouldn't do to hurt them. However, Nurul still asserted her own personal convictions that freedom of religion is a must.
There was even a question where one cheeky fellow (yes, yours truly!) suggested constitutional reforms so that the Malay identity may be extricated from being Muslim. Malaysia seems to be the only country in the world where it is actually an issue, if one is Malay, that one's race is used to determine one's religious affiliation. I personally believe that this is the key to the problem, that these two unrelated identities, Malay and Muslim, have been artificially composited together to make a highly politicised identity. This Malay-Muslim has been fertile ground for fundamentalist politics which holds the Malays back from intellectual emancipation.
Nurul handled this question well. She believed in priorities. That the rife corruption the nation is afflicted with needs to be removed first. She stood by the constitution, which enshrines that the Malay people are by definition Muslim but I think her liberalism with Islam would make that identity matrix to be something far more palatable than what it is today, no thanks to the Perkasa, the Malaysian equivalent of the EDL, who enjoys the support of the iconic former Prime Minister, Tun Dr. Mahathir.
I was also quite heartened by another able young political activist, Rafizi Ramli who is the PKR's director of strategy. Rafizi recounted to us how he, Nurul and other young politicians from the Democratic and Islamic parties have grown to be comrade in arms, having stood side by side since the Reformation calls of 1998. With his camaraderie, he felt that the opposition coalition stood a better chance of bringing a new Malaysia. He was kind enough to address my question as well, telling us that Malaysian society is changing. Open dialogue is far more acceptable now than what it was back then. I concur as I have seen some of the views held by Malay-Muslims on the internet and I must say, the views are world class in terms of originality and audaciousness.
It was a great spirited evening. The presence of Nurul Izzah in our midst helped reawaken some political zeal among the audience, a ragtag bunch of Malaysian expatriates. If the new generation of Malaysian politicians are half as able as she and Rafizi, there may be some radical political reform in Malaysia's future after all.
Farouk A. Peru is a Phd Candidate in Islam and Postmodernism and teaches Islamic Studies at King's College, London.