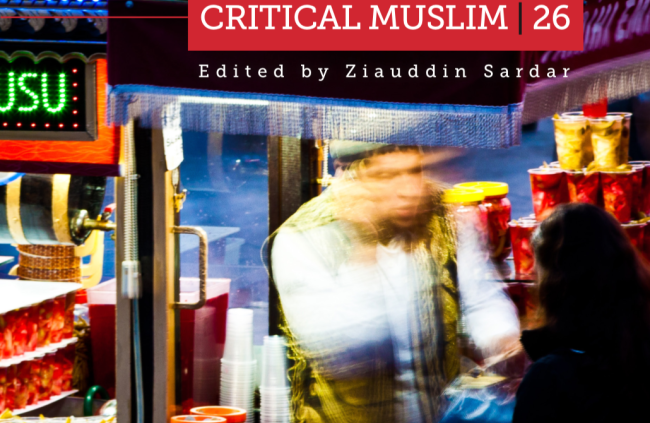 Merryl Wyn Davies shreds foodie culture as the construct of affluence and essence of abundance, Yasmin Alibhai-Brown returns to Uganda to recover her taste buds, Timothy Bartel is transformed by a visit to Willowbrook Farm, Jeremy Henzell-Thomas is convinced that the rise of celebrity chefs spells the end of (western) civilisation as we have known it, Charles Upton reads (and 'transcreates') Sufi wine poetry, Sami Zubaida recalls the Baghdad kitchen of his childhood, Colin Tudge suggests that the future belongs to those who can conjure up gourmet meals, Shanon Shah becomes a part-time vegetarian, Boyd Tonkin meets Claudia Roden, Gunel Isakova laments the loss of Azerbaijani food rituals, Tahir Abbas wakes up to the smell of Arabica beans, Hussein Kesvani defends halal fried chicken shops, Imran Kausar launches a new brand of halal fare, Yemisi Aribisala invokes Nigerian love stews, Mohammad Ali remembers the forgotten Bangladeshi pioneers of the 'Indian restaurant', C Scott Jordan has dinner at a restaurant in the jungle of Calais, Irum Shehreen Ali is intoxicated with the eighth-century poet Abu Nuwas, Misha Monaghan has difficulty digesting Ugly Food, and Vicky Bishop tucks into Halal Snack Packs (chips with layers of doner kebab sprinkled with 'Holy Trinity' sauces).
Also in this issue: Becky Trow on the colonial fantasy of Victoria and Abdul, Laych Koh on the plight of the Rohingya, a short story by Wasio Ali Khan Abbasi, three (foodie) poems by Shadab Zeest Hashmi, Mimi Khalvati's 'Zereshk Polow', and our list of Seven Wonderful Future Foods.
To read more subscribe to Critical Muslim.