When
Saturday 24 Sep 2011, 14:00 — 18:00
Where
Muslim Institute
CAN Mezzanine, 49-51 East Road, Old Street, London N1 6AH
Muslim Institute Fellow Hassan Mahamdallie discusses his latest publication Defending Multiculturalism. A vibrant, hard-hitting and informative collection of essays edited by Hassan, the book sets out to defend Britain's multicultural way of life and reinforce the anti-racist struggle.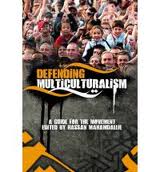 The contributors challenge David Cameron and others' assertions that multiculturalism is to blame for dividing society, encouraging segregation and even fostering terrorism.
It takes on the issues including 'Has multiculturalism failed?', 'Muslims and dissent' and 'Scapegoating - the Jewish experience'. The book includes photo essays, poetry and cartoons.
The contributors encompass the best thinkers and writers in politics, academia and activism. They include Peter Hain MP, Ken Livingstone, Salma Yaqoob and Benjamin Zephaniah. 
Hassan Mahamdallie is senior strategy officer at Arts Council England and has a background in theatre and campaigning journalism. He has written extensively on race and religion and was a founding member of Unite Against Fascism.
The event will take place at the Muslim Institute's London office.