When
Friday 3 — Saturday 4 Mar 2023
The inaugural issue of Critical Muslim was a historic snapshot and a harbinger of everything we set out to be: a quarterly publication of ideas and issues showcasing ground-breaking thinking on Islam and what it means to be a Muslim in a rapidly changing, interconnected world.
Edited by the internationally renowned writer and critic Ziauddin Sardar, Issue 01, January-March 2012, 'The Arabs Are Alive' featured reportage, analysis, and reflections on the so-called Arab Spring, as well as reviews, poetry, fiction and a tongue-in-cheek List of Top Ten Towering Fatwas.
Since then Critical Muslim has gone on to cover countries and regions, and issues topical and timeless. From Turkey, Pakistan, and West Africa to Populism, Virus, and Gastronomy. With contributions from Rowan Williams, the former Archbishop of Canterbury, Turner Prize nominee Forensic Architecture, and renowned Islamic Studies scholars, including Bruce Lawrence, Ebrahim Moosa, and Ziba Mir-Hosseini.
Join us to celebrate a decade of Critical Muslim in London, 3-4 March 2023. With panels, performances and exhibitions of our best work over the past ten years.
Featuring Adama Juldeh Munu, Aina J Khan, Alev Adil, Ayisha Malik, Boyd Tonkin, Brekhna Aftab, Ehsan Masood, Elhum Shakerifar, Faisal Al Yafai, Faisal Devji, Farhaana Arefin, Fatima Rajina, Hussein Kesvani, Leyla Jagiella, Medina Tenour Whiteman, Myriam Francois, Naomi Foyle, Oluwatosin Wasi Daniju, Rehan Jamil, Sameer Rahim, Samia Rahman, Shamim Miah, Shanon Shah, Tam Hussein, and more.  
For academics. Non-academics. Intellectuals. Students. And all those who think and who enjoy a good read. For critical engagement in the best tradition of Muslim intellectual inquiry.
Confirmed speakers and artists

Adama Juldeh Munu is an award-winning journalist and producer who has worked with TRT World, Al-Jazeera, the Huffington Post, the Middle East Eye and Amaka Studio. She writes about race, identity, faith and issues that connect Islam and the African diaspora.

Aina J Khan is a community affairs correspondent for The Guardian, who has reported from the UK, the US, the occupied Palestinian West Bank, and Tanzania. In 2021, she became the first International Fellow at The New York Times. She is also a writer. In 2019, she was selected to take part in the BBC Writer's Room, Northern Voices Writers scheme. Her first short play about a British-Pakistani teenager's love for Michael Jackson's music and traditional Pashtun dancing, Pashto Thriller, debuted at the Bradford Literature Festival in 2019.
Alev Adil is an artist and writer who has performed and exhibited at Tate Britain, the British Museum, and The Royal Maritime Museum in London and internationally including the Baltimore Museum of Art, Zurich Manifesta 2016 and Elekrozavod Gallery in Moscow. The State Collection of the Republic of Cyprus purchased her work in 2020. Her poetry has been included in numerous anthologies of Cypriot poetry in English, Greek and Turkish, taught on university courses in the UK, US, Cyprus, Greece and Turkey and been translated into eight languages. Adil reviews fiction for the Times Literary Supplement, is a co-editor of, and contributor to Nicosia Beyond Barriers: Voices From a Divided City, Saqi Books, 2019, an anthology of writing about Nicosia and is an associate editor and regular contributor to Critical Muslim.

Ayisha Malik is author of the critically acclaimed novels, Sofia Khan is Not Obliged, The Other Half of Happiness, and This Green and Pleasant Land. She was a WHSmith Fresh Talent Pick and Sofia Khan was a London CityReads choice. Her contributions have included, A Change is Gonna Come, A Match Made in Heaven and the Sunday Times bestselling Conversations in Love. She has written a re-telling of Jane Austen's Mansfield Park, and a children's book Seven Sisters. Ayisha is winner of The Diversity Book Awards and has been shortlisted for the Asian Women of Achievement Award, Marie Claire's Future Shapers Awards and h100's Awards for Publishing and Writing. Her fourth adult novel, The Movement, is out now. Sofia Khan is not Obliged and The Movement are optioned for television.   

Boyd Tonkin is a writer, editor and critic who in 2020 was awarded the Royal Society of Literature's Benson Medal for outstanding service to literature. His writing on literature and arts appears in international media including the Wall Street Journal, The Economist, The Financial Times and Times Literary Supplement. As Literary Editor and then Senior Writer of The Independent, he re-founded the Independent Foreign Fiction Prize and judged it 2001-2015. He chaired the Man Booker International Prize 2016 and served as the prize's Special Adviser. His reader's guide to global fiction, The 100 Best Novels in Translation, is published by Galileo.

Brekhna Aftab is a publisher, editor and writer based in London. She is the Co-Publisher at Hajar Press and represents Haymarket Books in the UK. She tweets @breshna_aft.

Ehsan Masood is a British science writer, journalist and broadcaster. Between 2009 and 2017 he was the editor of Research Fortnight, (which is part of Research Professional News), is currently bureau chief (editorials, Africa and the Middle East) at Nature. He is chair of the Muslim Institute and a senior editor at Critical Muslim.
Elhum Shakerifar is a writer whose work revolves around multiplicity of experience, the languages in-between, opacity and erasure. She also translates, most recently PEN Award winning, Warwick Prize nominated Negative of a Group Photograph by Azita Ghahreman, translated alongside poet Maura Dooley (Bloodaxe Books, 2018). Elhum is currently one of Writerz & Scribez' inaugural poetry 'Griots'. Elhum is also a BAFTA-nominated producer and curator working through her London-based company Hakawati ('storyteller' in Arabic).

Faisal Al Yafai is a journalist, partner at Hildebrand Nord and foreign editor at New Lines Magazine in Washington, DC. He has been an investigative journalist for The Guardian in London and a documentary journalist for the BBC, and has reported from across the Middle East, from Eastern Europe, Russia and Indonesia. He can be found on Twitter @FaisalAlYafai

Faisal Devji is Professor of Indian History at the University of Oxford.

Farhaana Arefin is an editor and organiser based in London. She is the Co-Publisher at Hajar Press, Deputy Editor at Wasafiri, and Consulting Editor at Hurst Publishers. She tweets @fararefin.

Fatima Rajina is a Legacy in Action Research Fellow at the Stephen Lawrence Research Centre at De Montfort University. After completing her MA in Islamic Societies and Cultures at SOAS, she went on to do a PhD after successfully securing a Nohoudh Scholarship with the Centre of Islamic Studies, SOAS, University of London. Fatima's work looks at British Bangladeshi Muslims and their changing identifications and perceptions of dress and language. She has also worked as a Research Assistant at the Institute of Criminology, University of Cambridge looking at police and counter-terrorism. Fatima was a Teaching Fellow at SOAS, Research Fellow at UCL IoE, and worked as a Lecturer in Sociology at Kingston University London. Pic by Ellie Kurttz. 

Hussein Kesvani is a journalist, author and podcaster based in South East London. His work has featured in The Guardian, The Independent, The New Yorker and Critical Muslim, among many others. His work Follow Me Akhi: The Online World of British Muslims was longlisted for the Orwell Prize in 2020. 

Leyla Jagiella is a cultural anthropologist and scholar of religion who has worked on orthodoxy and heterodoxy in Islam and gender and sexuality in Muslim societies. As a Muslim trans woman, she has been a community activist for more than two decades and has held workshops on trans Muslim intersectionality and empowerment in Germany, the UK, Pakistan, Malaysia and South Africa, she has worked as a social worker with LGBTQI refugees in Germany and is currently project coordinator of the Jewish-Muslim Cultural Festival (Jüdisch-Muslimische Kulturtage) at the Muslimische Akademie Heidelberg, Germany. Her book Among the Eunuchs: A Muslim Transgender Journey was published in 2021 by Hurst, London. Pic by Joe Pohl. 

Medina Tenour Whiteman is a British-American writer, singer-songwriter and poet born to Sufi Muslim converts. She is the author of the travelogue-memoir The Invisible Muslim, Journeys Through Whiteness and Islam published by Hurst in 2020, Huma's Travel Guide to Islamic Spain (Huma Press, 2016), and the collection of poetry, Love is a Traveller and We Are its Path (Ecstatic Exchange 2016; 2nd ed. Mzungu Press 2017). She lives near Granada, Spain, with her husband and three children.

Myriam Francois is a Franco-Irish journalist, filmmaker and writer. Myriam is a former Research Associate at the Centre of Islamic Studies (CIS) at SOAS University. She completed her PhD (DPhil) at Oxford University, focusing on Islamic movements in Morocco in 2017. Her most recent documentary for BBC World Service on rape laws in Senegal aired in May 2022. Myriam is currently the host and producer of new, upcoming series of Al Jazeera English, 'The Trouble with France', out in 2022. She is currently working on her documentary directorial debut under her production company Mpwr productions. The film was shortlisted for the 2021 Whickers Awards and the Cannes MIPDOC 2022. Myriam was awarded 'Woman in Media Award' at the Muslim Women Awards 2021.

Naomi Foyle is a British-Canadian writer, educator and editor. Author of three poetry collections, five science novels, and essays concerning faith, ecology and geopolitics, she is a contributing editor of Critical Muslim. ASTRA, a multimedia theatre production based on her eco-SF quartet The Gaia Chronicles, adapted for the stage with Raven Kaliana of Puppet (R)Evolution, won the Brighton Fringe ONCA Green Curtain Award 2022. In 2017 Naomi edited and introduced the bilingual anthology A Blade of Grass: New Palestinian Poetry (Smokestack Press, UK), which was launched in England, Scotland, NYC, Jordan, East Jerusalem, and Ramallah. Naomi is a non-Muslim Fellow of the Muslim Institute and Reader in Critical Imaginative Writing at the University of Chichester. 

Oluwatosin Daniju (fka Wasi Daniju) is a British-born Nigerian practitioner using photography and moving image to explore ideas around identity, home, loss and belonging from a person-centred therapeutic viewpoint. The thread of documenting runs through her work, whatever the genre; ultimately she sees photography first and foremost as an act of bearing witness. Her recent shows include IFE NKILI arts festival and Photofusion SALON/21, and her project How We Build Home (co-created and developed with the late Dr Azeezat Johnson) is currently featured in the Museum of the Home's 2022 summer season. Pic by Ana Pinto. 
Rehan Jamil describes himself as a social documentary photographer based in London, his work focuses on communities in transition. Most recently he has been working on long term projects with Muslim communities across London.

Sameer Rahim is Deputy Editor of Prospect Magazine. A literary editor, reviewer and journalist for 15 years, he has worked at the London Review of Books and the Daily Telegraph. In 2013, he won a William Hazlitt Prize for an essay on the historical origins of Islam. His novel Asghar and Zahra was published in 2019. He was a judge of the Booker Prize in 2020.

Samia Rahman is the director of the Muslim Institute and one of the deputy editors of Critical Muslim. Pic by Rehan Jamil.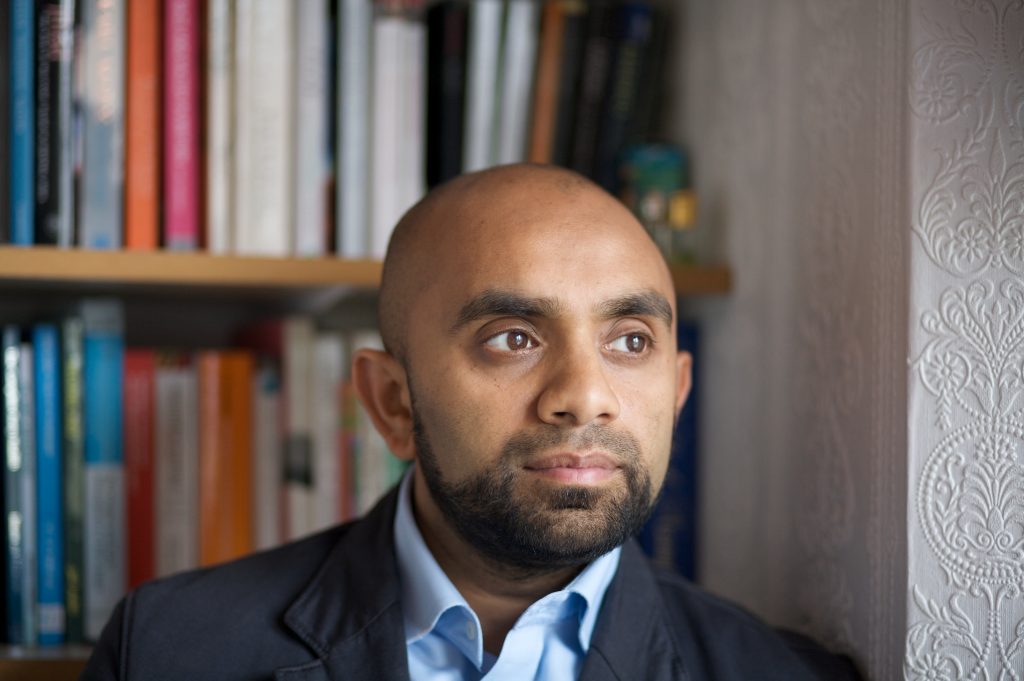 Shamim Miah is a Senior Lecturer at School of Education, University of Huddersfield, Senior Fellow at Centre for Postnormal Policy and Futures Studies and an associate editor at Critical Muslim. He is the author of three academic books: Muslims, Schooling and the Question of Self-Segregation; Muslims and the Question of Security; Trojan Horse, Prevent and Racialised Politics. Shamim has recently completed a biography of Ibn Khaldun.

Shanon Shah is an editor at Critical Muslim and a Fellow of the Muslim Institute. Before moving to the UK, Shanon was a multiple award-winning singer-songwriter, playwright, and journalist in his native Malaysia. He is also director of Faith for the Climate,  a UK-wide network of faith-inspired climate justice activists. Shanon holds a doctorate in the sociology of religion from King's College London, where he also previously lectured at the Department of Theology and Religious Studies. He currently teaches religious studies part-time at the University of London's Divinity programme and conducts research on minority religions and alternative spiritualities at the Information Network Focus on Religious Movements (Inform), a research charity based at King's College London. He is the author of the monograph The Making of a Gay Muslim: Religion, Sexuality and Identity in Malaysia and Britain (Palgrave Macmillan, 2018). Pic by Rehan Jamil. 
Tam Hussein is a contributing editor at New Lines and specialist producer for ITV News. He is an award-winning investigative journalist and writer who has reported on jihadist networks, foreign fighters, human trafficking and criminal networks. His work has been recognised by the Royal Television Society and he was nominated for his investigative work and journalism by the Orwell prize in 2021 and 2022. He is the author of To The Mountains: My Life in Jihad, from Algeria to Afghanistan, Travels of Ibn Fudayl and the forthcoming The Darkness Inside. He also has a substack page, The Blood Rep.
Yassmin Abdel-Magied is a Sudanese-born writer and broadcaster. A recovering engineer, Yassmin has published four books with Penguin Random House, including the essay collection Talking About a Revolution and the award winning Listen Layla. The Layla novels have been optioned for screen by Goalpost Productions, with Yassmin as lead writer. Yassmin's fifth book, Stand Up and Speak Out Against Racism, is due to be released in Autumn 2023.
In 2020, Yassmin co-wrote the sold-out immersive theatre production in London's Kensington Palace, United Queendom. She was then selected for the Soho Theatre Writers Lab to develop the play, BLACK GILD. In 2021, Yassmin was awarded a prestigious Australia Council grant and spent the year as a resident at the Cité Internationale des Arts in Paris. She was later selected for the Marseille Web Fest Writers Lab and the 2021/2022 cohort of the Tamasha Playwrights Collective. In 2022, Yassmin was selected for the Fall Residency program at the Virginia Centre for the Creative Arts. She has also written for the Guardian and provided commentary for Al Jazeera among other media outlets.
Yassmin founded Youth Without Borders at 16 and ran it for nine years before starting two other organisations serving the needs of women of colour. She is currently a Trustee of the London Library and Stakeholder Committee Chair with the Black Writers Guild. Pic by Leanne Dixon
Ziba Mir-Hosseini is a legal anthropologist, specialising in Islamic law, gender and development. She has a BA in Sociology from Tehran University (1974) and a PhD in Social Anthropology from University of Cambridge (1980). She is Professorial Research Associate at the Centre for Middle Eastern and Islamic Law, University of London. She has held numerous research fellowships and visiting professorships, including a Fellowship at the Wissenschaftskolleg zu Berlin (2004-5), and Hauser Global Law Visiting Professor at New York University (2002-8). Dr Mir-Hosseini is a founding member of Musawah Global Movement for Equality and Justice in the Muslim Family.
Her publications include Marriage on Trial: A Study of Islamic Family Law in Iran and Morocco (I. B. Tauris, 1993, 2002), Islam and Gender: The Religious Debate in Contemporary Iran (Princeton University Press, 1999), (with Richard Tapper). She has also directed (with Kim Longinotto) two award-winning feature-length documentary films on contemporary issues in Iran: Divorce Iranian Style (1998) and Runaway (2001).